TESTIMONIALS
(NO ONE WAS PAID TO PROVIDE THE TESTIMONIALS):
"I've been taking your advice since your first video. It really really has helped. My body's looking very good now thanks 🙂 "
Danny Barrett       Cheltenham, England
"i thank you a lot for writing back i love what you're doing here and i think you are underrated- more people need to know about you…"
Joseph Arecibo          Puerto Rico
"Your info has 'profoundly' opened my eyes…Your workout truly makes my body a fat-burning machine…I can see an outline of my six pack…I actually got to wear a pair of jeans I saved from the late 90's…I saved them for that "someday" and finding you and your program…well, you're my "someday" Tim…THANK YOU…Not bad for a 46 yr old female… I just can't tell you how excited I am…so exciting!"
Shannon Unkefer                      Minerva, OH
"Tim, I wanted to share my update…Nothing I did seemed to move (my ten pounds of extra weight in my abdomen)…after the fast and doing exactly as you have given instruction, I lost EIGHT STUBORN [sic] pounds. My abdomen is noticably [sic] getting smaller."
Carl Novinger              Broken Arrow, OK
"Just thought you should know that I really really enjoy ur vids and that they have helped me a lot. I started (following program outlines) and have began losing weight substantially in problem places. its not easy but very helpful… You're great! I wish I could do a challenge with you where I just follow you for a month where I would workout with you and eat all that you do so I can get back in to the shape I was two years ago…Like I said your words are very helpful and I hope you keep going as ur an inspiration."
Lou                                    Chicago, IL
"I've been following your videos for quite some time, and by following your tips I have been able to drop an extra seven pounds so far! Thank you."

Michael Garcia               Staten Island, NY

"I am learning something new everytime I see your vids. Thanks for the info and keep up the good work."
Roy                                      Dallas, TX
"Thanks for the fast turnaround. Let me just say right off the bat, your ideas really speak to me. I know "in my bones" the ideas you put forth work. I've just never had them put together all in one package, so thanks for the motivation!"
Dave Glidden                    Long Beach, CA
"I really thought I was eating healthy until I read your book…I can feel my body changing from feeling sick…to more energy…"
Mark Milovanovic, Florida
"I have lost 12 pounds so far and counting, thank you very much for your great suggestions that I just never realized would help so much…you are under-charging for what you have to offer, and by far in comparison to other programs…"

Wendy, PA
"I am really grateful of a source of information that is informed like yours, finally realising consensus ideas of healthy just aren't any more."

Ross Dixon, United Kingdom
"You are one of the very few people out there I trust to guide me through the never ending puzzle of attaining optimal health. Lets just face it.. we have been lied to and through your personal experience you have shattered those lies. With your vast knowledge of the human body your approach is unlike any other and the results are very real and very attainable. Aside from that, your genuine openness, honesty and sincerity to help others is a rare find and I hope that you continue to inspire others as much as you've inspired me."
Amy Fox, Ohio
"…First of all, I am quite impressed. You replied to my personal email timely and specifically. Very quickly I am realizing the value of this investment. The investment in health."
Brett Barret          Dallas, TX
"…I just wanted to let you know what a difference you made in my life and indirectly in my wife's. … thank you for inspiring me to change my life for the better."
Brian and Jess, CA
"Tim, I have not started your detox yet or your fast, but oh my God, I could not have believed that the information you have provided me with so far has made my body change so much and help me feel so much healthier…I am losing a lot of weight, thanks for your information, my abs are showing…"

Christopher Andrew               Manchester, England
"I can tell you that I *AM* losing weight every day and it has been incredibly easy. Most probably the easiest thing I have tried."
Jim Bayle                                     New Jersey
"I bought your program about a week ago and since then I am learning many new things about a proper diet methods, in the past I had read many books and theories about the right foods to eat and about cleaning the colon to improve health and natural cures for modern times diseases, let me tell you that I had never found a program as comprehensive and complete as yours, I like it because it leaves nothing of information out."
David Esquivel                           Chicago, IL
…"mannnnnn [sic] this stuff has really helped me get that extra 10% of the way so much much much much much thanks for your knowledge! Best $40 I've spent in my LIFE!!!!"
Zane Zway                                      Vail, AZ
Zane May 2011: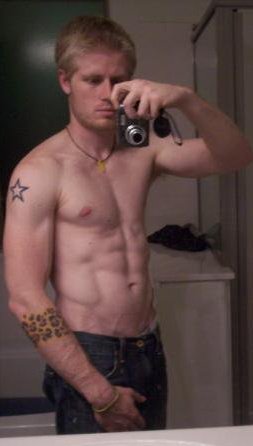 "Thanks for the workout program. It is simple, easy to follow, and concise. I have lost about 10-12lbs already depending on when I weigh myself."
Andrew King               Kingsport, TN
"My Doctor was very impressed with my weight loss, she thinks I am starving myself, NOT. Anyway she took me off one of the two medicines I was on so I am half way there to getting off all medicines. I am very excited about that. All my blood work came back the best it has ever been! Near perfect!"
Klas Lonnemo              Waterford, MI
"Hi Tim, just to update you, it has been almost 28 days. I lost approx. 2 1/2 inches on my waist. I am so pleased with that which was my goal. Greatly appreciate your guidance. Blessings, happiness, peace and love."
Tony Yeos                      Wellington, FL
"Thanks Tim, so far I've gone from a 36 waist to a 33 and still going. I've found the changes very easy to implement."
David Lully                     Kaysville, UT
"Before starting your worldview on health, I was 174 lbs at 5'11″…now I'm down to 162 lbs…Food has new meaning to me and I appreciate it at a much higher level now. I've had to go shopping to get better fitting clothes."
Jason Smith                     Washington, DC
I noticed a strange phenomenon…I am loosely following the recommendations in your program…after (using part of the program) my weight dropped steadily… It was like (it) rebooted my body…What I really appreciate about your information is that you provide all the info and I can apply what I choose. Everything is in bite sized chunks so it is easy to digest…
Joel Goldsney                  Alberta, Canada
"I'd just like to say a big thanks for all the time you spent yesterday giving me some of the best advice ever. When I first saw your website, it did not stand up to any other fitness/fat loss/health site…however, once I did join…I was blown away." 

Gavin       (A "Ten with Tim" Extended Program customer)                           Cefn Hengoed, UK
"This man is a genius, I subscribed on his site to receive personal emails and I must say I don't regret doing it one bit. He gives you so much for so little, it's such a steal I can't believe he provides it. Thanks again Tim…"
"Andaro66" (a YouTuber on Febrary 8, 2011)
"I just wanted to thank you for the great information you have provided me with…I have been using your guide now for about 3 weeks now, and have already noticed a tremendous change in my body fat and with my energy levels. I have always carried my extra weight in my stomach and now it is almost gone. Anyhow, again thanks, I am no longer tired all the time, and my pants don't reveal my butt crack any more when I bend over…lol…"
Robert Bivens                  Gastonia, NC
"I truly believe you have the best program out there."
Barbra Clark                      Alberta, Canada
"I wish to sincerely thank you for sharing your wisdom. Your 'Get Well, then Get Fit' approach has delivered tremendous results for me. I have lost 25kg…and I haven't even begun regular exercise yet! After years of temporary results from yo-yo diets and exercise programs, I know that the wisdom of your approach will enable me to maintain good health and an ideal body weight for the rest of my life. The rejuvenating effects I have observed in my body are too numerous to list here. Also, my partner was so impressed with the results that she's now a devotee of your methods and is getting impressive results too. Thank you, thank you, thank you."
Carl, New Zealand
"Thanks for the program. I have to find my before pic along with my after to send you. I'm 42 and I'm down to high school weight 180 from 225 lbs. The pounds have been melting away. Thank you."
Don and Candace                     Ventura County, CA
"I have benefited greatly from your program…"
Devarian Rose                            Arlington, TX
"I'M GETING [sic] RESULTS LOST 27 LBS SO FAR…"
Alfonso Gonzalez                      Clearfield, UT
"Hi Tim,
Love your work M8.
I've not taken the time to reply to you as yet as I wanted to truly test your work.
Guess what ?????
It works my friend and I can't thank you enough 🙂